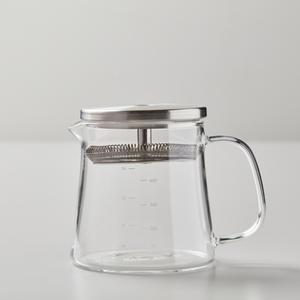 Teapot BOLI
Sale price Price $28.00 Regular price
Hand-crafted by master glassblowers in Hangzhou, China, Teapot BOLI is the result of years of input from baristas, home brewers, and seasoned tea drinkers. This is a simple glass teapot—but carefully designed (every detail labored over by our small team) and expertly manufactured (by true artisans; no factory-stock designs) to make everyday tea steeping an easy joy.

Optimized for bar service and seamless functionality, our custom teapot is ergonomic first—easy pouring from its narrow, no-overflow spout, and outfitted with an oversized counterbalanced handle that lets the teapot do the work. Teapot BOLI maintains heat for several minutes longer than others in its class (owing to thick, impact-resistant glass); a must for exacting tea drinkers who value a consistent extraction. With a thoughtfully shaped wide-bottom base for balance and breathing room (ideal for whole leaf teas), Teapot BOLI brews better tea, and is nearly impossible to tip over. These teapots endure, lasting years behind bar and a lifetime at home.

The casual tea drinker will appreciate its subtle branding and snug, flat-top lid, the product of countless iterations of design before we honed in on the perfect model.
SPECS
DOUBLE-THICK GLASS:1/8" borosilicate glass increases heat retention and reduces shatter risk.
MEASURE MARKS: Accurate volume markers in both fluid ounces and milliliters afford precision measurement. 
4:3 BUILD RATIO: A wider base and tapered neck prevent tip-overs.
OVERSIZED HANDLE: User-friendly counterbalanced handle.
NARROW SPOUT: Smooth and splash-free pours.